Diagnosis and Management of Kidney Disease Associated with Hepatitis C Virus Infection
This reference tool highlights select guidelines adapted from the KDIGO Clinical Practice Guidelines for the Prevention, Diagnosis, Evaluation, and Treatment of Hepatitis C in Chronic Kidney Disease for implementation in the United States and in accordance with the KDOQI U.S. Commentary.
Adapted from the KDIGO Clinical Practice Guidelines for the Prevention, Diagnosis, Evaluation, and Treatment of Hepatitis C in Chronic Kidney Disease.
For implementation in the U.S. and in accordance with the KDOQI U.S. commentary on the KDIGO clinical practice guideline for the prevention, diagnosis, evaluation and treatment of Hepatitis C in CKD.
To view the full Guidelines publication, visit www.kdigo.org
It is suggested that HCV-infected patients be tested at least annually for proteinuria, hematuria and estimated GFR to detect possible HCV-associated kidney disease. (Guideline 5.1; Weak evidence)
CKD SCREENING for HCV-Infected Patients
BIOPSY IN PATIENTS WITH EVIDENCE OF GLOMERULONEPHRITIS
5.2 It is suggested that a kidney biopsy be performed in HCV-infected patients with clinical evidence of glomerulonephritis. (Weak)
Glomerular disease may not be clinically apparent before biopsy.
Determine the histologic pattern of glomerular injury
Several different glomerular lesions have been described
Most important: type 1 membranoproliferative glomerulonephritis (MPGN) in the context of type 2 cryoglobulinemia.

In non-cryoglobunemic MPGN, the clinical picture, pathologic features and laboratory data are indistinguishable from idiopathic type 1 MPGN, but are characterized by the presence of HCV antibodies and HCV RNA in the serum.

Mesangial and capillary IgM, IgG, and C3 deposits occur in both forms of HCV-associated MPGN.

HCV infection is the major cause of mixed cryoglobulinemia, a systemic vasculitis characterized by:

Arthralgias, arthritis, Raynaud's phenomena
Purpura
Peripheral neuropathy
Hypocomplementemia
Kidney disease.

Cryoglobulins and HCV RNA are usually present.

Liver enzymes may be normal or only mildly elevated.

These patients may present with nephrotic syndrome (20%) or acute nephritic syndrome (25%).
CONSIDER ANTIVIRAL TREATMENT IN PATIENTS WITH HCV-ASSOCIATED GLOMERULONEPHRITIS
There are limited data regarding antiviral treatment in HCV-associated GN and the impact of antiviral therapy on long-term outcomes of kidney disease is not well known.
It is suggested that for patients with HCV-associated glomerular diseases, particularly MPGN, antiviral treatment according to Guideline 2.2 be considered. (GUIDELINE 5.3. Weak evidence.)
It is suggested that immunosuppressive agents be considered for patients with cryoglobulinemic kidney diseases. (Weak evidence.)
TREATMENT STRATEGY
SELECT TREATMENT ON THE BASIS OF BIOPSY FOR PATIENTS WITH:
Cryoglobulinemia without systemic disease and MPGN
Noncryoglobulinemic MPGN
MGN

In those with moderate proteinuria and slow but progressive loss of kidney function:

Standard IFN or peyglated IFN alfa-2a (135 µg week-1 SQ in those with reduced creatinine clearance) OR
Pegylated IFN alpha-2B (1.5 µg kg-1 per week1 SQ plus ribavirin (if GFR is >50)
With or without erythropoietin support depending on level of hemoglobin

Nephrotic-range proteinuria and/or rapidly progressive loss of kidney function and an acute flare of cryoglobulinemia and MPGN
Consider either plasma exchange (3 l of plasma thrice weekly for 2–3 weeks),
rituximab (375 mg m-2 week-1 for 4 weeks),
or cyclophosphamide (2 mg kg-1 day-1 for 2–4 months) plus methylprednisolone pulses 0.5–1 g day-1for 3 days.

PLUS Antiviral therapy as in other patients
Therapeutic strategy in patients with nephrotic-range proteinuria and/or rapidly progressive disease:
1.
Control the vasculitic syndrome
2.
Control the HCV infection directly with the antiviral therapy

Two possible regimens should be considered for the treatment,
depending on the severity of proteinuria and kidney function

Potential Side Effects of Vasculitis Treatment in HCV-Infected Patients
High rate of severe complications such as

infection
increased viral replication
death.

CAUTION: Ribavirin is not recommended in people with impaired kidney function (GFR <50) to avoid anemia from hemolysis. If used, extreme caution is advised and close monitoring for worsening anemia is required
Evaluations and Monitoring

SVR after antiviral therapy
Change in kidney function
Proteinuria
Side effects of therapy

IF THERE IS EVIDENCE OF RELAPSE IN PATIENTS WITH nephrotic-range proteinuria and/or rapidly progressive loss of kidney function and an acute flare of cryoglobulinemia and MPGN

Relapse of Systemic Cryoglobulinemia and MPGN

Rituximab (375 mgm-2 week-1 for 4 weeks) with or without IFN for a minimum of 18 months

Relapse of Viremia

Standard or peyglated IFN
In those whose initial treatment was monotherapy with standard IFN, consider pegylated IFN plus ribavirin if GFR is >50.
Applicability of Guideline 5 to the United States
Many studies of the management of HCV-associated kidney diseases were conducted in the United States. However, the quality of the evidence on these topics was overall low, highlighting the need to individualize treatment.
IN ALL PATIENTS WITH CKD
Achieve target blood pressure and proteinuria goals established for patients with CKD.3
Use diuretics and antihypertensive agents should be used to achieve recommended target blood pressure for CKD (see KDOQI Hypertension Guidelines).3
Use antiproteinuric agents such as ACEI alone or in combination with ARBS are used to reduce urinaryprotein losses.
General approach to hypertension and use of antihypertensive agents in CKD. Blood pressure goal of < 130/80 mmHg is appropriate for all types of CKD; individual patients' goals may be different. (See Full Guidelines statement at www.kidney.org.) Diamonds indicate decisions. Rectangles indicate actions.
SECTION I: USE OF THE CLINICAL PRACTICE GUIDELINES
These Clinical Practice Guidelines are based on the best information available at the time of publication. They are designed to provide information and assist decision-making. They are not intended to define a standard of care and should not be construed as one, nor should they be interpreted as prescribing an exclusive course of management.
Variations in practice will inevitably and appropriately occur when clinicians take into account the needs of individual patients, available resources and limitations unique to an institution or a type of practice. Every health care professional making use of these guidelines is responsible for evaluating the appropriateness of applying them in the setting of any particular clinical situation. The recommendations for research contained within this document are general and do not imply a specific protocol.
SECTION II: DISCLOSURE
Kidney Disease Outcomes Quality Initiative (KDOQI) makes every effort to avoid any actual or reasonably perceived conflicts of interest that may arise as a result of an outside relationship or a personal, professional or business interest of a member of the Work Group.
Specifically, all members of the Work Group are required to complete, sign and submit a disclosure and attestation form showing all such relationships that might be perceived as actual or perceived conflicts of interest. This document is updated annually and information is adjusted accordingly. All reported information is published in its entirety at the end of this publication in the Work Group members' Biographical and Disclosure Information section and are on file at the National Kidney Foundation.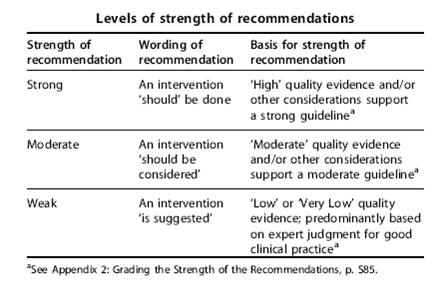 REFERENCES
Citation
In citing this document, the following format should be used: Kidney Disease: Improving Global Outcomes. KDIGO Clinical guidelines for the prevention, diagnosis , evaluation, and treament of Hepatitis C in chronic kidney disease. Kidney International 2008;73 (Suppl 109):S1-S99.
KDOQI U.S. commentary on the KDIGO clinical practice guideline for the prevention, diagnosis, evaluation and treatment of hepatitis C in CKD. Kidney International. 2008; in press.